Meet Travel Partners on App in Haifa - Israel, JournAlong App
1. Travel Companion App Haifa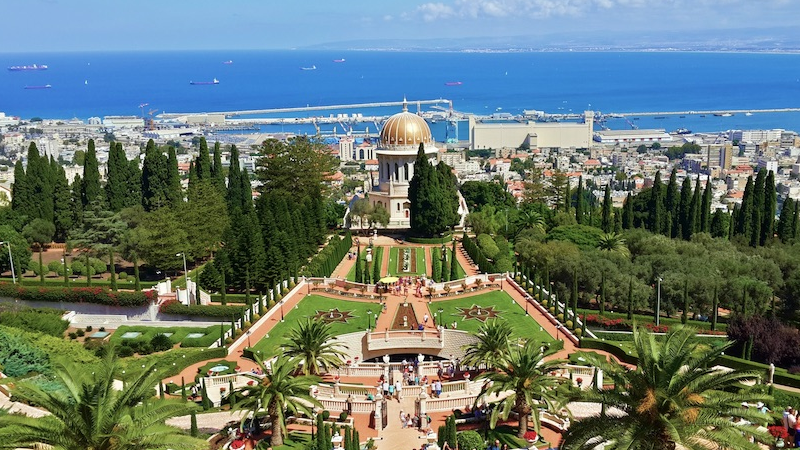 JournAlong is a travel matching app ideal for matching travelers based on interests pertaining to travel plans, photography, local cuisine exploration, and more. It can be utilized for a wide variety of purposes such as shopping and planning activities, and works by putting travelers in touch with one another through messaging options, gaming, uploading photos, and other features. JournAlong helps bring travelers and locals together for an enhanced travel experience that is both exciting and often educational, with travel mates get the opportunity to participate in various cultural activities and traditions while travelling.
2. Travel Matching App to Learn Culture of Haifa
Visiting Haifa and looking for fun sites to see? Visit the Baha'i Gardens in Haifa with JournAlong travel mates for beautiful views over the city of Haifa. For travelers interested in hiking, Mount Carmel National Park is a great choice and fun way to visit the outdoors with new friends. For a more science-related educational experience, there is the Israel National Museum of Science, Technology, and Space, which is a science and technology museum (also kid friendly) that sees over 200,000 visitors annually. The Cave of Elijah, Louis Promenade, and Carmel Beach are venues ideal for meeting up with friends and enjoying the warm coastal breeze and delicious food. Whatever your travel plans, JournAlong can help you find the right companions to join you on your next adventure.
3. Connect with Locals on App to learn about local food & attractions of Haifa
Fellow hummus lovers will be in food heaven in Haifa. Featuring numerous cafes, eateries, and fine dining options, Haifa food enthusiasts and foodies can connect on JournAlong for a fun afternoon or dinner time trying out various eateries, Jewish delis, shawarma bars, and falafel shops. Near Haifa in the city of Shefar'am is Shefa'amr ice cream shop (גלידת שפרעם) on Jabur 42nd street, a must try for anyone who loves homemade icecream. In addition to eating delicious food, let locals show you around popular spots not seen on TripAdvisor, where you'll have the opportunity to learn about hidden gems and local favorites. Get to know the shop owners and people living in the city for a travel experience that will leave you feeling more than a tourist, rather a dear friend.
4. Have family fun, connect with other families to travel to Haifa
Traveling on a family vacation and would like to meet other families? Family trips can be more exciting when parents and kids meet other similar families to spend time with. JournAlong helps connect families with local and traveling families as a way to promote socialization and cross cultural experiences in a safe setting. Family activities can include the Haifa Zoo, Carmel Hai-Bar Nature Reserve, Dan Karting (go-carts), X Park Amusement Center, Louis Promenade, shopping malls, Dado Beach, and more. Although travelling with children has its challenges, JournAlong is there to match you with other families and locals to share meaningful activities with and visit beautiful places.
5. Socialize & Enjoy Local Music in Haifa
Talk about socializing in Bars, pubs, & local music. Along the Carmel Beach Promenade there are a wealth of shops, cafes, seashore restaurants and surf clubs. Another area with vibrant nightlife is the German Colony, where one can walk along Ben Gurion Boulevard and enjoy the red-roofed cafes, boutiques, and pubs. Masada St. is a famous avenue featuring street art, and several pubs for fun nights out with JournAlong mates. A variety of pubs are in the area including Libira Brewpub, Duke Pub, Nola Socks Pub, Vesper Cocktail Bar, and more. A boring night can instantly become fun and exciting with friends and acquaintances from JournAlong. Most offer a cozy and social environment where people can relax, listen to live music, and have a good time unwinding from the day's travels. Meet with locals in Haifa in pubs through JournAlong, for a fun night getting to know the city's nightlife and people.
6. Watch Films with your matches in Haifa
Connect with travel mates on JournAlong to accompany you for movie nights and film festivals in Haifa Cinemathique, Globus Max, and Yes Planet cinema. Find fellow film enthusiasts who love watching movies of various genres, according to your interests, be it independent, Israeli, Hollywood, and Indie. JournAlong matches have the opportunity to hang out to discuss films and meet individuals in Israel on your trip abroad.
7. Photography & Outdoor Fun on Travel Match App Haifa
Photo enthusiasts can meet other fellow photographers through JournAlong to talk about photos uploads, photography, and cool scenic spots with travel matches. Haifa, due to its hilly terrain, offers many picturesque views. Avid hikers can venture into the nearby mountains and also head to the Baha'i Gardens, which gives visitors a panoramic view of the city all throughout the day, and is especially beautiful during sunsets. In addition, Haifa Scenic is a scenic drive or hike, offering 21 lookout points where photographers can hike and drive to in order to view the city from the highest points in the area.
8. Find shopping deals by connecting with locals on JournAlong App in Haifa
JournAlong is the ideal platform to reach out to friends who love shopping. Lev Hamifratz Mall is a perfect starting point with over three floors of stores and a large food court. It's a nice way to spend the day browsing the area with friends and checking out some unique brands not sold in other countries. Other malls include the Grand Canyon Mall, the largest shopping mall in Israel's norther region, which has over 220 stores, Hof HaCarmel Mall, and Hutzot HaMifratz Mall. For a more diverse, old-fashioned feel, the Haifa flea market is the place to go. Specialty shops include Rena's Armenian Ceramics, Oda Gifts & Art, and various other art galleries for art-lovers and fashion finders alike. Connecting with Israelis on JournAlong for inside tips on how to shop will go a long way in your shopping experience, as well as establishing a friend-base in Haifa.