Meet Travel Buddies Istanbul - Turkey, JournAlong App
1. Travel Companion App Istanbul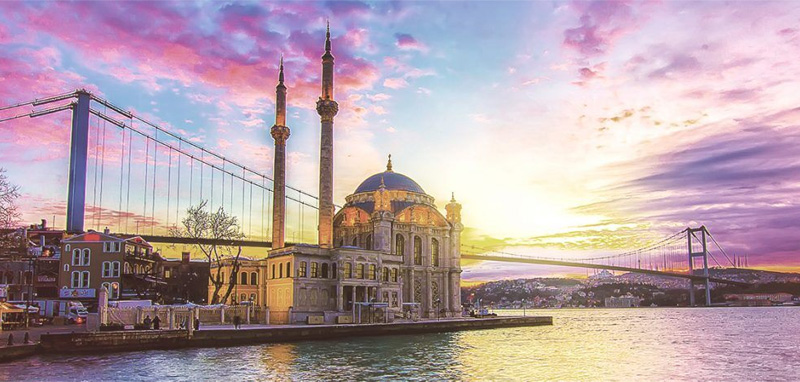 JournAlong is a travel-matching web app that's designed to match like-minded travelers looking to socialize and meet up in various countries. It's ideal for travelers who are looking to meet other adventurers, families who want to connect with other international or local families, and backpackers, and works by putting them in touch with one another to make the travel experience pleasant and exciting. JournAlong matches indicate the country and city they are travelling to and are able to find companions who want to engage in similar activities. Based on interests such as hiking, photography, food, music/nightlife, backpacking, sight-seeing, and more, travelers are able to connect with both international and local people to meet spend time with during their trip. JournAlong offers features such as playing online app games with travel matches as well as picture uploads.
2. Travel Matching App to Learn Culture of Istanbul
Istanbul is a historic city which offers a myriad of museums and historical sites. For travelers interested in a day of sight-seeing, JournAlong is the ideal platform to search for local guides and gather a group to visit all the various attractions that the city has to offer. Sites like the Hagia Sofia, the world-famous Greek Orthodox Basilica turned mosque, now a museum in Istanbul, are not to be missed! Topkapi Palace, a 15th century palace occupied by sultans for over 400 hundred years is another must-see. Enjoy walking along the Basilica Cistern and Hippodrome of Constantinople Public Square, visiting the famous Armenian Patriarchate (dating back to 1461), as well as sites like Maiden's Tower, Beyazit Square, Pera Art Museum, and Bosphorus Bridge. Whatever your plans for the day, JournAlong can connect you with a group of friends to make it happen.
3. Connect with Locals on App to learn about local food & attractions of Istanbul
Looking for a lovely night out with a group of friends? JournAlong helps you connect with locals and other international travelers. Head out to Taksim Square in Istanbul, where you and your travel mates can shop and dine along the beautiful streets that have been around since the 19th century. Enjoy the mesmerizing Bosphorus views at night time at one of the rooftop bars, and cafes and movie theaters lined up along IstiklalCaddesi, the main pedestrian boulevard, while riding Istanbul's vintage tram around Republic Monument. For food, one must be sure to visit the famous Armenian taverns. Minas Tavern in the Kumkapı area, also known as Minas'ınMeyhanesi, which serves traditional Armenian food, native to the region, and features live music. Just down the street is KörAgop Tavern, notorious for its tasty fish soup. Wherever you go, you and your travel mates are sure to have an exciting time taking in the vibrant atmosphere of Istanbul nightlife and exploring different cafes and delicious eateries. Curious to try Turkish cuisine? JournAlong provides a platform to connect with other travelers to enjoy a night out exploring the various flavors of Istanbul. For a fine dining experience, head out to Antakya Restaurant, where you can enjoy a variety of Turkish appetizers and warm, traditional food. For a more cozy experience, ÇiyaSofrası offers home-style regional Turkish cuisinewhere friends and family can gather and enjoy its roomy 3-story seating area with a rooftop terrace. Old Ottoman Café and Restaurant is also a popular choice, among the many options in the city, and a wonderful starting point for any traveler's gastronomic journey.
4. Have family fun, connect with other families to travel to Istanbul
JournAlong provides families traveling with children the platform to connect with local and other families travelling to Istanbul, in order to provide a safe setting for families to meet and enjoy an exciting vacation experience. By connecting with local families, parents can have the chance to gain insight into local Turkish culture, travel advice, local connection to establish safety, and familiarity in a foreign place. Children of all ages can benefit from this connection with the opportunity to meet other kids their age and learn about a new culture while making friends. JournAlong allows families who are local and abroad to meet and plan activities together, providing an enriched travel experience and cultural exchange for all.
5. Socialize &Enjoy Local Music in Istanbul
Explore Istanbul's pubs and bars with travel mates from JournAlong. Meet locals and travelers in Istanbul during your stay, whether you are a solo backpacker, study abroad student, visiting professor, local, or simply on a family vacation. Enjoy live music at Kat restaurant, fine Irish brewery at U2 Istanbul Irish Pub, and cocktails and lively jazz music at Nardis Jazz Club. Sunset Grill & Bar, Karga Bar, Vogue Restaurant & Bar, and Taksim Karaoke Bar are great venues for a group outing and feature Mediterranean and Japanese appetizers, a guaranteed crowd-pleaser for large groups.
6. Watch Films with your matches Istanbul
JournAlong helps you connect with locals and travelers alike to watch films in Istanbul. Rexx Cinema is a popular spot for movie-goers, featuring a large-screen and old-school feel. Grab your travel mates to enjoy watching and discussing independent, Hollywood, Bollywood, Turkish, and International films.Cinemaximum at Zorlu Center, Profilo Cinemas, Boğaziçi Cinemas, and Cinetime, are also convenient and well-known locations for enjoying a wide genre of films in English and Turkish, with subtitles in the respective languages. Every night can be a movie night with travel mates, where you have the opportunity to make new friends based on movie preferences and similarities.
7. Photography & Outdoor Fun on Travel Match App Istanbul
Meet with photographers and photography enthusiasts for an exciting experience capture great photos on tours, hikes, and excursions! Meet with locals for access to 'hidden gems' and local views of Istanbul, and venture with other photographers while seeing the attractions of the beautiful city. JournAlong matches travelers who are interested in photography and allows them the platform to connect and meet up to visit sites and take photos of their journey. Tired of getting left behind by your group or friends while taking photos, and always been told to hurry up? This feature is for you. With JournAlong, you can spend hours snapping away at nature-sites and beautiful views, without the concern of slowing down your group of friends. Photo-enthusiasts get the opportunity to capture beautiful photos of picturesque places and go sight-seeing in order to snap away to their heart's content.
8. Find shopping deals by connecting with locals on JournAlong App in Istanbul
Reduce the risk of getting overcharged while shopping by connecting with a local from Istanbul on JournAlong. Istanbul has great spice and indoor souk-bazaars to shop from where one can find handmade jewelry, ceramics, hand-knitted scarves, dried fruit, tableware, and various other trinkets and souvenirs. By getting matched with a local, they can help make the shopping experience seamless by offering to translate when you communicate with vendors, helping you avoid getting ripped off or overcharged, and showing you around the city's marketplaces and shopping centers.