Meet Travel Partners on App in Amman - Egypt, JournAlong App
1. Travel Companion App Amman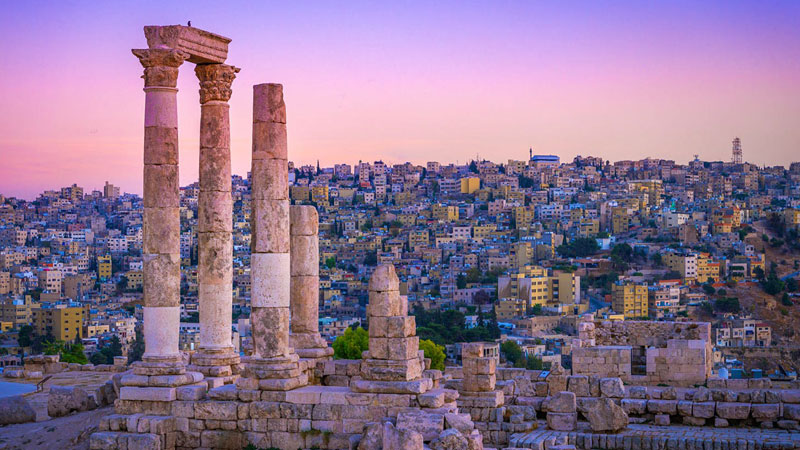 JournAlong is the ideal platform for bringing together international travelers and locals on their journeys to Amman. As a travel matching app that matches individuals based on similar interests and activity plans, JournAlong is the go-to travel app for solo backpackers, friends, students, couples, families, and more. JournAlong travel companions have numerous options of communicating including messaging, playing app games, and uploading pictures. Ultimately, it is a fun and meaningful way to connect with other individuals, be it locals or other international travelers, and establish a friendship rooted in similar preferences and travel memories.
2. Travel Matching App to Learn Culture of Amman
Amman is the capital of Jordan, and home to numerous archeological sites, in addition to mouth-watering shawarma. Among its ruins, one must visit the Amman Citadel, dating back to 1600 BC, and Jordan Archeological Museum located within for a look into the world of ancient artifacts, jewelry, and antiques of Amman. The magnificent Roman Amphitheater, located in the Hashemite Plaza of Amman is another must-see, dating back to 161 CE. Jordan's Folklore Museum is ideal for visitors wanting to know about Jordan's cultural heritage and music. JournAlong mates can spend an entire day marveling at these and more, at the Umayyad Palace, an 8th century palace complex. 'Tiraz: Widad Kawar home for Arab dress' is an excellent museum for those interested in various styles of traditional Arabic clothing. Whatever your interests are, get connected with travelers and locals for an exciting experience exploring the city of Amman and all that it has to offer.
3. Connect with Locals on App to learn about local food & attractions of Amman
Amman is a great starting point for visitors travelling in Jordan. Vibrant with cafes and city life, JournAlong travel companions have many options for food and fun. The City Mall and downtown area in Amman, next to the Roman Amphitheater, is a nice place to explore where there are many cafes and eateries featuring falafel, shawarma, mezzes, hookah, and Knafeh. Local favorites include Shahrazad, located in the downtown area, as well as Falalfel Abu Shreeha, ShawermaSaj, and Shawarma Reem restaurants. International cuisines are also present, and Amman presents a wide variety of foods you are sure to enjoy.
4. Have family fun, connect with other families to travel to Amman
Want to meet a local family while in Amman? Do your kids often get bored or shy during family vacations? JournAlong has the perfect solution for that, by providing a platform for families to connect with other families in order to engage in various activities or excursions, as well as to meet and socialize. Popular family-oriented locations include the Amman National Park, Amman Waves (waterpark), and Hussein Luna Park (amusement park). Families, whether local or travelling, have the option of messaging one another and meeting up, going to waterparks or restaurants together, and even places farther away, such as the Ma'in Hot Springs, Petra, or Wadi Rum, for a day of fun family interaction and adventure. One of JournAlong's goals are to make it convenient for families to interact with one another while abroad, in order to provide a safe and social setting for families to get to know one another. Socialization with Jordanian families can also enhance a trip by promoting cross-cultural experiences and getting a more intimate experience that goes beyond being a tourist.
5. Socialize & Enjoy Local Music in Amman
Socializing is always better with friends, and what better way to continuously meet new people than to try new activities? JournAlong helps travelers meet friends with whom they can enjoy activities like visiting attractions, listening to music, and discovering new pubs and bars. Meet up with friends from JournAlong for a fun night out at Amman's many pubs such as Murphey's pub, Good Pub, The Blue Diamond Experience (upscale), and more, for live music and a cozy environment. The perfect setting for icebreakers and getting to know other travelers, pubs often provide mezze-style appetizers, cocktails, live music, and comfortable seating for customers to enjoy. You may even find that JournAlong acquaintances turn into friends and travel companions. Whether you are looking for a relaxing night out or just want to meet new travelers or locals, JournAlong will help you find what you need.
6. Watch Films with your matches Amman
Do you love watching and discussing movies? Want to meet people who enjoy the same? JournAlong matches who are interested in watching films have many cinema options in Amman. Rainbow Cinemas, one of the oldest cinemas in Amman, offers various local and international films and is an exciting venue to visit during film festivals. Prime Cinemas in Abdali Mall is also popular, and conveniently locating in a shopping and hang out area which makes it an ideal spot for groups. Taj Cinemas in another comfortable location, featuring reclining chairs and an excellent sound system. Films from all backgrounds are featured, so grab fellow film enthusiasts from JournAlong and enjoy the movies for a guaranteed good time.
7. Photography & Outdoor Fun on Travel Match App Amman
Photography is a great way to meet new people and a wonderful opportunity to explore Amman. Locals in Amman are often more familiar with scenic places and hiking trails, mountains, gardens, and sites that tourists would not have the opportunity to stumble upon on their own. With JournAlong, travelers and tourists can meet and get to know one another by building cultural ties and taking pictures. Well known sites include the Citadel, Mount Nebo (mentioned in the Hebrew Bible), Temple of Hercules, Nymphaeum, and Qasr Al Abd, among many others. With JournAlong, photographers can join together on hikes and excursions and not only take beautiful pictures, but connect and learn the cultural of Amman and the rest of Jordan.
8. Find shopping deals by connecting with locals on JournAlong App in Amman
Bazaars are a great way to learn about Amman's culture and people, as well as a great venue for finding street art, locally-made perfume, leather goods, hand-crafted jewelry, spices, ceramics, hand-woven scarves, shoes, décor, and more. Souk Jara, located near Rainbow Street, is a locally operated flea market and popular spot for local shoppers and tourists alike. By meeting locals on JournAlong, a fun experience can be had by all while shopping and later, enjoying locally made ice cream and fruit juices. Whether you are going shopping in the Mall or the Bazaar, JournAlong will connect you with other travelers and locals who love to shop, for insider tips, memories, and more.